T-Shirt Quilt - Start To Finish
Fall 2019

T-Shirt Quilts From Start to Finish
Leather & Lace Custom Threads



First of all, we want to introduce ourselves and tell you a little bit about us. We are a combination of women who happen to be related including Grandmothers, Mothers, and Daughters ranging in ages from almost 80 to 20-year-olds. Quilting has been a part of each of our lives since each of us were old enough to sit up in a chair! Tips, tricks, and lessons have been passed down for years and years. Our Family Business started in 2017 when we purchased our first longarm quilting machine. The machine is a Gammill Statler Longarm that is 14' in length.  During the start of this business, we also purchased the Cadillac of all Embroidery Machines, a Husqvarna Designer Epic. It is an industrial sewing and embroidery machine. We had a good solid year of training with the two machines and now we are working Monday - Friday in the quilt room with all sorts of projects. 

T-Shirt quilts are something that we take very seriously and use quality materials. We have made them for our girls, their friends and many clients in the past. Asking someone to make you a quilt out of your beloved t-shirts can be a scary thing to some, I mean they have to cut them up and sew them back together! We get it! So, we want to explain the whole process in this blog post to ease your mind. Compiling the details of what it takes to make a quality quilt and what we prefer to use is listed in detail below.  
Difference between a blanket and a quilt:
Blanket and a quilt are two different things. A blanket is a top/front and a back piece of material. It will only have two layers with no batting in between the layers. Quilting has three layers: a top, batting, and a backing. We offer high-quality quilting with our t-shirt quilts.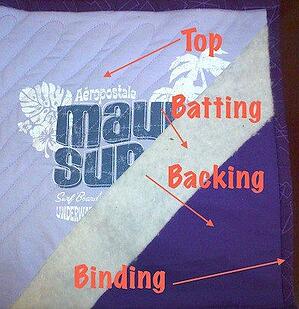 (Photo Credit: TooCoolT-ShirtQuilts) 
Difference between custom and edge to edge quilting: 
Custom Quilting on our longarm quilting machine is specific quilting in certain areas that can very to be a pattern that is duplicated per block all the way to following the line of the shirt patterns. 
Edge to Edge quilting is a pattern that gets duplicated over and over throughout the whole quilt.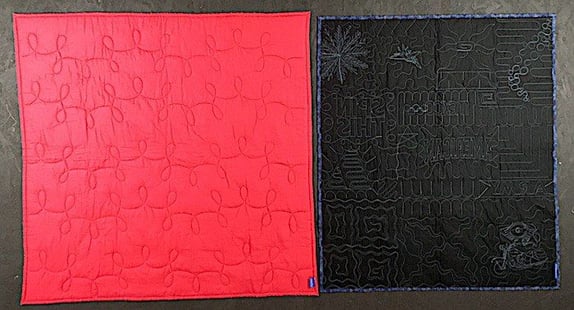 (Photo Credit: TooCoolT-ShirtQuilts) 
What you need to know about binding: 
Binding is the finished edge and can be a variety of ways for the final look.
-Finished attached binding is a two-step process. We attach a biased strip of material to one side of the quilt and then sew it down on the other side leaving a professional-looking finished binding edge. This binding will extend the overall size of the quilt with the width size of the binding and will last the life of the quilt. 
-Fold-over binding is a one-step process. We take the backing material and fold it up to the front and attach it. This is a cheaper way to do the binding but as you can see in the photo provided it does not have quite the professional finished look.  
-No border binding is only optional with a blanket that has not been quilted. It does not look as well as the other two quilts.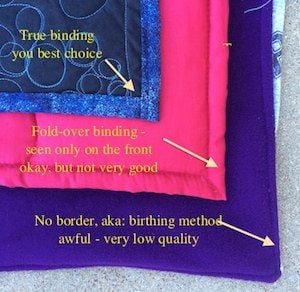 (Photo Credit: TooCoolT-ShirtQuilts)

 What you need to know about backing material: 
This material can be a couple of different options depending on the overall style, look and feel you want to have for the quilt.
-100% Cotton 
-50% Poly / 50% Cotton or a variety of the mix
-100% Polyester 

We prefer 100% Cotton material when quilting for our clients it has the softest feel, wears well and is the easiest to work with. When purchasing your backing make sure you feel the material before you purchase or know a trusted business you are buying the material from. Some cheaper 100% cotton material can be thinner woven and will not have the same overall feel. 

Poly/Cotton mix fabric has a somewhat feel of cotton yet it has enough polyester to keep it from wrinkling up. 

Polyester fabric is really very inexpensive and will also give the finished look of inexpensive in the overall look and feel as well. 
What you need to know about batting: 
We carry two types of batting: 80/20 cotton batting and a poly batting.
Our cotton batting is a 80% cotton / 20% poly fused combination. It is known as the best of both worlds. This batting feels like cotton and is a thinner finished look on your quilt. The thin batting allows for easier washing, folding, and storing. The poly fibers in the 80/20 cotton batting make the batting stronger overall.
Our poly is puffier and more loosely woven together batting. This batting gives a different overall look to a quilt being that there are more high and low spots in the finished quilt. The quilting pattern is a big factor when using poly batting. Large areas can bunch up after washed multiple times. Many of our clients choose 80/20 cotton batting but few prefer the poly. We carry both for our clients to have options. 
T-Shirt Quilt
Start to Finish
-Gathering-
Gathering your shirts is the first start! No matter if you have been in one group or multiple groups odds are, you have a group shirt. We love to customize items for groups, it gives a sense of belonging that we all enjoy being a part of. It helps us represent things that mean something to us. We wear statement pieces every day in our wardrobes and when we believe in something it is as easy as wearing a shirt for promotion. T-shirts are an item many people can customize and a broad range of people can wear them. This being said, the average person will have a variety of t-shirts in their lifetime and many of them will have sentimental value. This leads to the next step. 

Grouping your t-shirts: 
High School
Extra-Curricular Groups
College Shirts
Sports Shirts
A loved one's shirts who mean something to you
The list goes on and on...

Gathering all of your shirts is the first really exciting part of the whole project. You get to go through feeling each shirt and remember all of the times you wore these beloved shirts! The next part, grouping, well that may be the hard part but if they mean a lot to you maybe you could do more than one! 


- Style For Top -
Then deciding the style for the top! There are many pros and cons when looking at options. Basically, there are three styles to pick from.
Traditional // Puzzle // Shapes
- Traditional -
Traditional style T-Shirt quilts are designed with a grid-like system. Some traditional style quilts have sashing in between each shirt and some do not. Sashing is where each block has a border all the way around. The grid can be symmetrical or in a group of a variety of sizes. 
- Puzzle -
Puzzle style t-shirt quilts are designed with no grid. Every shirt is cut to its unique size and then fit together like a puzzle. This type of style is great if you have a variety of sizes of shirts or if you like the finished look of a puzzle quilt. 
- Shapes -
Shape quilts can be a variety of things such as hexagons, triangles, square, rectangular, and more. When you make different shapes with t-shirts some of the prints can be cut off but we center the print and can make adjustments depending on the client's desires. 
Next on the list of things to do is decide on a size for your quilt. 
Throw Measurements: W (54-60) - L (68-76)
Twin 

Measurements:

W (56-64) - L (84-100)
Full 

Measurements:

W (70-84) - L (84-100)
Queen 

Measurements:

W (76-84) - L (90-104)
King 

Measurements:

W (90-100) - L (90-104)
Additional pillows are a fun thing to add to this process. We can do custom work such as photos of individuals in vinyl or embroidery all the way to matching signatures and handwriting on a block on a quilt, pillow, or a tag on the back of the quilt. 
- Quilting Pattern - 
Deciding on a quilting pattern may seem a bit overwhelming at first when you hear we have over 3,000 patterns to pick from but do not let that bother you! We love this part! Picking out your quilting pattern starts by us asking a couple of simple questions: Who is this for? What does that person enjoy doing in their free time? What items are you using in the quilt? This helps us tie together all of the aspects of the person giving, receiving and the materials being used in the quilt. 
- Batting - 
Next step is deciding on which batting to use. Our shop carries two types: cotton and poly. Our cotton batting is our most popular used. It is a thinner and tighter weave of 80/20 cotton/poly fibers. The batting feels soft like cotton but has enough poly in it to give it more strength. The poly batting is more puffy and airy than the cotton and it is made of polyester fibers. We carry both and sell both types regularly. 
-Binding-
The last decision is choosing your binding style. We offer this in three options attached, fold from backing, and hand attached. Attached binding is our most frequently picked style of binding. We attach a biased strip of material to the edge of the quilt for a finished look. This look frames the quilt on both sides of the quilt. Fold from the back binding is where we take the backing material and fold it over to the front and sew it down. This leaves a nice finished edge on the front and the back has a line of the sew top piece showing finishing that edge. The last binding style is hand attached. We attach the biased binding to one side then hand sew the binding down to the other side.
- OUR EXPERIENCE -  
We have created this blog post to help inform you on all the ins and outs of what it takes to make a T-Shirt quilt.
The photos taken from the credited site came from: https://www.toocooltshirtquilts.com/blog and our collage photos are designed by us.
Thank you for taking the time to read about our options! Let us know if you have any questions and we will be happy to assist you.
Contact us by email: leatherandlacecustomthreads@gmail.com
or find us on Facebook: